UPDATES ON THE RETURN TO SCHOOL 2nd NOVEMBER 2020
Please see the above video on the return to school for St Mark's tomorrow, and what this means in light of the government's announcement yesterday.
To gain an understanding of why we continue to keep the doors and windows open in school you may want to read this article from the Spanish Media about how Covid is spread in different environments.
https://english.elpais.com/society/2020-10-28/a-room-a-bar-and-a-class-how-the-coronavirus-is-spread-through-the-air.html
As you can see it is important that we maintain good ventilation- even in winter months. We are gathering warm, waterproof coats, please let us know if you require any extra layers!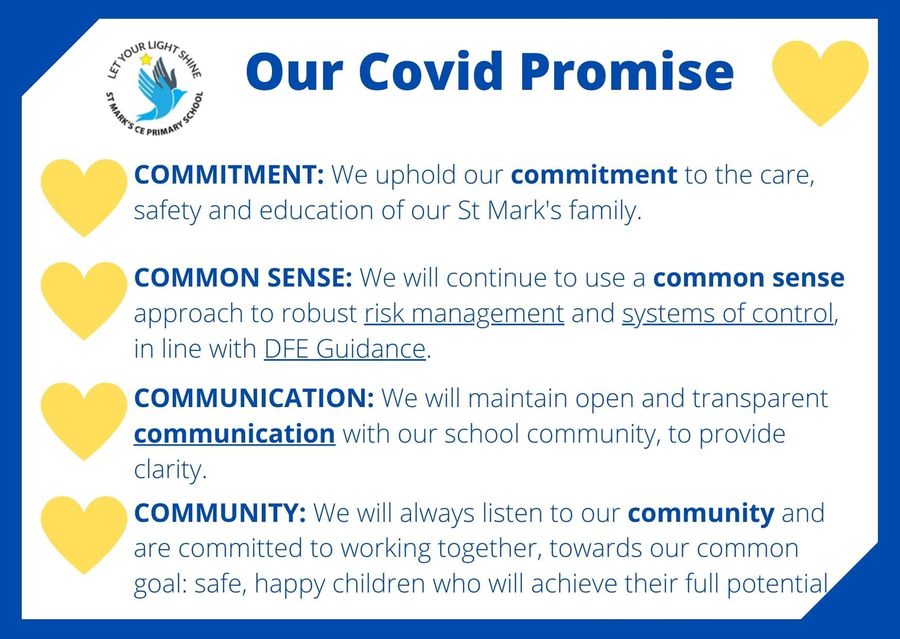 CORONAVIRUS UPDATES
Click here to see our guide to how we are keeping you safe during COVID-19. It contains details on how we have prepared the school, and how we can help you and your family during this time.
What do I do if my child is unwell?
We expect all of the children to be in school. If your child is unwell, please follow the guidance here. You can also find our FAQ information for a quick reference guide here.
Drop off and Collection Arrangements
We ask that you leave the drop off and collection points as soon as you have dropped off, or picked up your children, to limit congestion. Remember gates are open between 8.40am and 8.50am.
Mrs Fendley and Miss Moulson will be at the gates to ensure the children arrive and leave safely. If you have any messages for teachers, or wish to speak with a member of staff, Mrs Sellins is available on the South Gate.
Please see our message to visitors here.
CLASSES

Drop off arrangements

Collection arrangements

Reception

SMOOTH START

8.40AM-8.50AM

SOUTH GATE

(Morning work available in the classrooms, with a member of class teaching team present)

SOUTH GATE 2.50PM (Reception)

SOUTH GATE 3.00PM (Year One)

Year 1

Year 2

NORTH GATE

3.00PM

Year 3

SOUTH GATE 3.10PM

Year 4

SMOOTH START

8.40AM-8.50AM

NORTH GATE

(Morning work available in the classrooms, with a member of class teaching team present)

SOUTH GATE 3.15PM

Year 5

NORTH GATE 3.10PM

Year 6

NORTH GATE 3.15PM
If you have any questions, please email help@stmarks.brighton-hove.sch.uk.
Return to School in September
Check out the videos above to see the arrangements for your child's return to school in September. You can also read about the arrangements in the Back to School Special Newsletter. We can't wait to see you all in September!
You can find the latest statement from the Local Authority here.
Travelling to school
We encourage our community to walk, or cycle to school whenever possible. We advise against car sharing. If you must use public transport, please see the latest guidance from Brighton and Hove Buses here.
Is the school open?
The government has said children and young people in all year groups should return to school full-time from the beginning of the autumn term. For St Mark's this is Monday 7th September.
You can see the DFE's most current information and guidance here.
We will be updating this information as we receive updates from the government. Please see our most recent communication to parents/carers in the file list below.
How can I explain the situation to my children?
Please look at this social story which explains the Coronavirus to children in a clear and simple way: https://www.flipsnack.com/KeshetChicago/coronavirus-social-story/full-view.html
There is useful guidance here on how to explain the Coronavirus to children with autism: https://www.psychologytoday.com/gb/blog/neuroscience-in-translation/202003/how-explain-global-health-crisis-children-autism
and here https://www.autismbedfordshire.net/wp-content/uploads/2020/03/AB-Social-story-Why-am-I-not-at-school.pdf
Follow this link, for Coronavirus information translated in to different languages: https://www.doctorsoftheworld.org.uk/coronavirus-information/#
How can I access free school meal vouchers?
We are part of the government's scheme to provide supermarket vouchers for children on benefit related free school meals. You should receive an email with this information, unless you have already told us you would like these to be posted to you. You can find the FAQ here.
Where can I access food banks?
East Brighton Food Co-operative : Call 01273 885068 if you or someone you know needs a freshly cooked meal, 7 days a week. Or a food parcel delivered (Thursdays).
The Brighton Table Tennis Club, The Fitzherbert's Centre | 36 Upper Bedford Street | Brighton | BN2 1JP. Info is here - https://www.facebook.com/brightonttc/photos/a.146995728705301/3773173966087441 People can just turn up between 1-4pm 7 days a week to the carpark from St George's Terrace. Or if they want delivery they can email info@bttc.club or call the club 01273 670145 when the club is open.
See this flyer for further information.
How can I help my child with their learning at home?
Your child's teacher will share a weekly activity list via Tapestry or the class email accounts. These activities can also be accessed via the class learning pages of the school website.
How can I keep my child safe on line?
This page has been created by CEOP to support parents during COVID-19 and the closure of schools. Each fortnight, we will be releasing new home activity packs with simple 15 minute activities you can do with your child to support their online safety at a time when they will spending more time online at home.
https://www.thinkuknow.co.uk/parents/support-tools/home-activity-worksheets?utm_source=Thinkuknow&utm_campaign=03cb8440df-TUK_ONLINE_SAFETY_AT_HOME_24_03_20&utm_medium=email&utm_term=0_0b54505554-03cb8440df-55124945
How can I contact the school?
You can email your child's teacher on the class email address eg Year1@stmarks.brighton-hove.sch.uk . Mrs Fendley and Miss Moulson also access these accounts.or the school office admin@stmarks.brighton-hove.sch.uk .
The school office is manned during school time: 01273 605588.
How can I manage my family's worries?
We are aware that pupils / students are feeling understandably anxious about coronavirus. As parents and carers you may want to repeat the messages above and support your child to
manage any difficult feelings. If your child is struggling with anxiety about this or other things you may find these links helpful:
https://youngminds.org.uk/blog/talking-to-your-child-about-coronavirus/
https://youngminds.org.uk/blog/what-to-do-if-you-re-anxious-about-coronavirus/
https://youngminds.org.uk/find-help/for-parents/parents-guide-to-support-a-z/parents-guide-tosupport-anxiety/
https://findgetgive.com/services?loc=brighton-hove
This website provides helpful information to support adult wellbeing:
https://www.mind.org.uk/information-support/coronavirus-and-your-wellbeing/

What if I have other worries if the school is closed?
If you are worried about your child's mental health and wellbeing, please contact the Primary Mental Health Worker on 01273 293331 or CAMHS 0300 304 0061 or go direct to GP or A&E
Brighton and Hove Wellbeing Service https://www.brightonandhovewellbeing.org/children-andyoung-people
If you are worried about a child's safety call Front Door For Families on 01273 290400
If you are worried about your own wellbeing, contact The Samaritans on 116 123 https://www.samaritans.org/
Children who are worried can call Childline on 0800 1111 https://www.childline.org.uk/
If you are having financial difficulties and in need of food, there is the local food bank https://thewhitehawk.foodbank.org.uk/ or call 07941 397648 or http://www.realjunkfoodbrighton.co.uk/
If your child has SEND and you are worried, contact AMAZE: https://amazesussex.org.uk/amaze_news/amaze-statement-on-coronavirus-covid-19/
If you are already working with other services, please keep them informed of your situation eg social workers, health visitors and school nurses. They will all be happy to help.
If you are suffering domestic abuse, please go to the Rise website: https://www.riseuk.org.uk/ or call 999
If you need support you can still call the RISE helpline 9-5 Mon-Fri on 01273 622 828. Out of hours please call the 24-hour National Domestic abuse helpline on 0808 2000247. You are not alone
We have also updated our Child Protection and Safeguarding Policy to ensure this remains a top priority throughout this time. This can be seen here.
The school nurse service is able to offer advice during school closure please see attached information here and text 07480 635423 if you need their help.
| Name | |
| --- | --- |
| Covid Daily Care Card PDF.pdf | Download |
| coronavirus update 20.03.2020.pdf | Download |
| coronavirus update 20.03.2020.pdf | Download |
| coronavirus update 19.03.2020.pdf | Download |
| coronavirus update 18.03.2020.pdf | Download |
| coronavirus update 17.03.2020.pdf | Download |
| UPDATE 16.03.2020.pdf | Download |
| Coronavirus_advice_for_educational_settings_poster.pdf | Download |
| coronavirus letter to parents.pdf | Download |
Showing 1-9 of 9